Introduction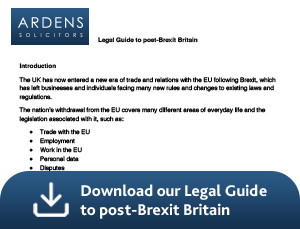 The UK has now entered a new era of trade and relations with the EU following Brexit, which has left businesses and individuals facing many new rules and changes to existing laws and regulations.
The nation's withdrawal from the EU covers many different areas of everyday life and the legislation associated with it, such as:
Trade with the EU
Employment
Work in the EU
Personal data
Disputes
Corporate matters
The impact on UK cross-border insolvency
Family and relationships
Our team at Ardens Solicitors has given careful consideration to each of these topics and prepared a helpful guide which covers some of the points that businesses and individuals need to consider post-Brexit.
This guide is detailed, but not comprehensive and it is strongly advised that you seek legal advice in relation to any of the topics covered within this document. The information was correct at time of publishing: January 2021.