The UK Government is debating tougher rules for protests in England and Wales. Trespass would become a criminal offence. Police would be able to seize property and vehicles of trespassers who set up "unauthorised encampments."
Parliament is set to debate the second reading today (Monday 15th March, 2021) of the Police, Crime, Sentencing and Courts Bill 2021
The aim of the bill is to give the state and police more powers to police protests in England and Wales but it also contains wider provisions. In the introduction to the policy paper, the commissioner of the Metropolitan Police, Cressida Dick, is quoted, saying that there is a need for new laws "specifically to deal with protests where people are not primarily violent or seriously disorderly" but do cause disruption, such as Extinction Rebellion.
Key among the proposals included in the bill are:
Introducing the same restrictions for a static protest as already exist for a protest march. This includes dictating start and finish times, and imposing noise restrictions – see below.
Noise. Police could impose conditions on a protest where "noise causes a significant impact on those in the vicinity or serious disruption to the running of an organisation".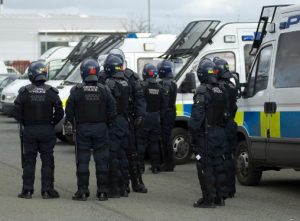 Closing a loophole in the law which allows protestors to claim ignorance of conditions imposed on a protest by police by tearing up written notices or covering their ears when advised by a police officer. The new legislation will change the threshold for the offence so that it is committed where a person "knows or ought to have known" that the condition has been imposed.
Criminalisation of the offence of trespass, currently a civil offence. Proposed to allow police to deal more effectively with tent camps such as set up by Extinction Rebellion, this would also impact significantly on travelling communities, but potentially also anyone exploring the countryside, such as mountaineers, ramblers or campers. The bill gives police "powers to arrest and seize the property and vehicles of trespassers who set up unauthorised encampments."
Make it an offence to obstruct vehicular access to Parliament
Make public nuisance a statutory offence, currently a common law offence. Widening the definition of public nuisance to include acts or omissions which cause someone to suffer "serious annoyance, serious inconvenience or serious loss of amenity", punishable with a jail sentence of up to 10 years.
If you require legal assistance or advice about this or any other issue, please contact our team of qualified solicitors at office@ardenslaw.com or on 020 7100 7098.
We provide legal advice in English, Hindi, Gujarati, Polish, Punjabi and Urdu.